Not many people know this, but it's 100% definitely true.
When he wrote U2's smash-hit 'I Still Haven't Found What I'm Looking For' back in 1986, Bono was actually lamenting the lack of a decent search engine on his IBM PC Convertible 5140. The poor thing had to wait over a decade for Google to be born.
It's nice when we find exactly what we're looking for, without having to look too hard. Google knows this. They built their entire empire around making sure we don't have to rummage around to find things. At the start of June Google rolled out highlighted content from featured snippets – another step towards making sure that we never have to hear 'I Still Haven't Found What I'm Looking For' ever again.
What is Google highlighted content?
Featured snippets have become part of the SERP furniture in the past few years.
They take a slice of content that's most relevant to our search query and present it to us on the search result page. We then either leave, satisfied with the answer provided, or click through to the piece of content it was taken from to find out more.
Google Featured Snippet result
Before the highlighted content feature, we'd have to glance over the entire piece of content to find that relevant snippet. Potentially annoying. Unnecessarily time-consuming.
Now, though, when we click through on a featured snippet, we're taken directly to that relevant chunk of content – and it's handily highlighted in yellow.
An example of Google's highlighted content feature

Another example of Google highlighted content
I had my first real-time, real-life encounter with highlighted content during the working from home phase of the Coronavirus crisis.
The home office was working well, but there was one big distraction; pug farts.
One search later and highlighted content has the answer for me, as quick as a flash.
As the owner of an 11 year old pug prone to flatulent outbursts, I can confirm this is 100% accurate.
When was the Google highlighted content feature implemented?
This feature has actually been around for a couple of years. Google started testing it with AMP pages back in 2018, and ran sporadic tests on other pages throughout that period.
It's now fully live on both desktop and mobile.
"we've done this regularly with AMP pages since December 2018. We tested with HTML pages last year, as noted. We now do it regularly on HTML pages, since last week."
Danny Sullivan from Google
Why does Google highlight text from a search?
This is just another step towards Google achieving their overarching aim of making things as easy as possible for the user.
It's just like highlighting an extract in a book – instead of sifting through paragraphs of irrelevant content, the highlight brings your eye straight to the important stuff.
What does Google's content highlight mean for SEO?
The initial response among the SEO community has been mixed.
Featured snippets are already a source of controversy. They're often seen as the holy grail for SEO, and a lot of effort is put into attaining them.
But a recent Ahrefs study showed how they only have an average CTR of around 8%, and when they are present they reduce CTR for results across the board.
That makes sense. You ask a question. You get an answer. No need to go any further.
Naturally, that gets a few backs up in the industry.
Highlighting content only occurs once a user has actually clicked through on the snippet, so CTR isn't affected here.
But the URL parameter that comes with it does send the user directly to the part of the page where the featured snippet content is. That means the user is potentially skipping through the majority of the page, straight past CTAs, ads and the rest of the content that you've worked so hard to produce.
A URL parameter takes you directly to the featured snippet content
Some have also noted that the highlighted text looks a lot like a formatting error on behalf of the site rather than a Google feature. That raises UX issues and could potentially impact the user's perception of the site and its trustworthiness.
It's going to take a while for users to get used to the presence of highlighted text, so site owners will have to monitor any impact quite closely.
How do I stop my results featuring highlighted text on Google?
Well, you can't.
It looked at first as though there would be an opt-out for this, but Google's Danny Sullivan dampened that fire pretty quickly: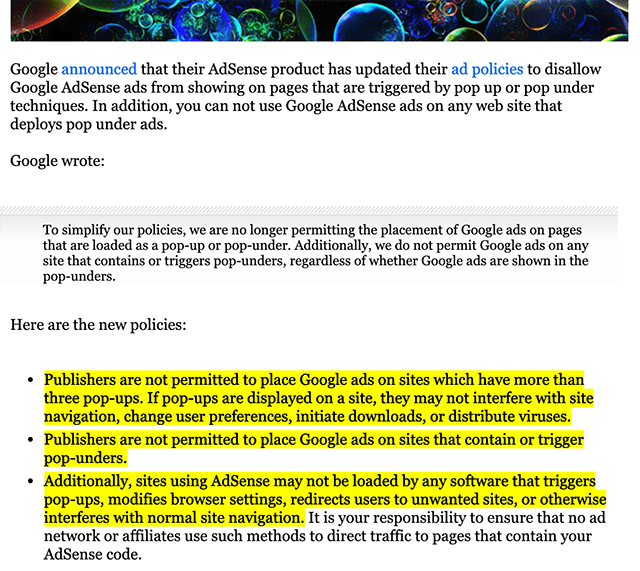 Looking for some SEO help?
As you can see from this post, we like to keep on top of all the latest SEO developments here at Circulate. Have a little look at our SEO, Technical SEO and Content Marketing offerings to see what we're all about.